August 1, 2022 Newsletter



Hello!
Thanks to all who helped make the Shop Hop so fun and successful! Special thanks to Pat Prucnal, Beverly Mason and Bobbi Crosson who helped keep the store running through out the Shop Hop!

Bayer's Pampered Stampers is open at 11am and closed at 5pm Tuesday-Saturday. These will be our hours all summer.
~~~~~~~~~~~~~~~~~~~~~~~~~~~~~~~~~~~~~~~~~~~~
For those of you interested in the new Tim Holtz Switch, an electronic cutting and embossing machine, I have one left in the store. They are regularly $299 but I will be selling it for $275.
To see all the latest merchandise in the store, click here to see the latest video Thanks, Cheryl, for keeping us up to date!
~~~~~~~~~~~~~~~~~~~~~~~~~~~~~~~~~~~~~~~~~~~~~~~~~~~~~~~~~~~~~~~~


Is there any interest in having a weekly or monthly crop night in the classroom? We could accommodate 6 - 8 people.



The Ohio Paper Crafters Shop Hop ended Sunday.
Last Friday's winner won a 12" x 12" ScorPal scoring board- a $32 value - and will still be eligible for the drawings tied to the number of stores visited.
Our weekly Prize winner last week was Sharon Jakubus! Congratulations!

Congratulations to all of our weekly winners:
Colleen Moyer Stella Garcia
Amy Peel Dawn Cable
Bobbi Crosson Sharon Jakubus

Winners of the prize baskets and grand prizes will be announced on FaceBook Tuesday, August 2nd between 5 & 6pm.
Prizes are available to be picked up where you bought your passport.
~~~~~~~~~~~~~~~~~~~~~~~~~~~~~~~~~~~~~~~~
Beverly Mason will teach a class on Friday, August 12th at 1230pm featuring 4 popup cards using Concord & 9th pop up dies. A fun and easy way to pop up items inside cards! I'm sorry the pictures aren't the best. Fee $18 just a few seats left for this class!



Karen Allen has prepared a class for Friday, August 26th at 1230pm and Saturday, August 27 at 1230pm. As usual, the cards are fabulous! The Fee is $18, sign up soon, the classes are filling quickly! All participants are asked to bring a basic class kit and your preferred coloring medium.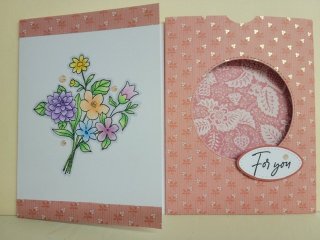 Be sure to check out our $2 card kits in the store for a quick, handmade card!
These are some of the latest cards:



~~~~~~~~~~~~~~~~~~~~~~~~~~~~~~~~~~~~~~~~~~



Bayer's Pampered Stampers Closed Mondays
1620 Ralston Circle Open 11a-5pm Tue-Sat
Toledo, Ohio 43615 Sundays in July 10-2pm
419-724-9516


Check out our website for new arrivals, top sellers, and events!
These emails will give you the best and most recent information you need!
Keep in touch with us by visiting our website!