Skip Navigation
Website Accessibility
December 20, 2021 Newsletter

Merry Christmas!

I hope you are all ready to celebrate the Holidays! It seems to sneak up on me every year!
To commemorate my 10th year in business, I will give everyone making a purchase now thru the end of December a free roll of Bayer's Sticky Tape. (1/8" or 1/4") Limit one per person. I truly appreciate your friendship and patronage.

I want to remind everyone that:
the store will be CLOSED DEC 24 & 25 And CLOSED DEC 31 & JAN 1

Remember, we sell gift certificates! If you need a gift certificate in a hurry, you can buy one online and print it yourself! If you'd like us to print it, you can pick one up in the store.

For a look at Cheryl's video featuring Holiday Gift Ideas go to our youtube channel
~~~~~~~~~~~~~~~~~~~~~~~~~~~~~~~~~~~~~~~~~
We are working on our schedule for January Classes!

So far, I have a Karin Watercolor Marker workshop scheduled with Beverly Mason on Wednesday, January 15th. There will be 2 workshop sessions, one at 4pm and the second at 5pm.
Both will have the same content. You will have a chance to try these unique markers and the techniques to get the best results. The fee is $15 and includes a free flower stamp to take home!

Beverly is also on the schedule Saturday, January 29th at 1230pm. Her class, "For the Boys" will feature 4 masculine cards and learning Ink Blending techniques! The fee is $15
Please bring a Basic class kit. Pre registration is required.
Here are the first 2 cards:


I should have the rest of the January Schedule next week.
~~~~~~~~~~~~~~~~~~~~~~~~~~~~~~~~~~~~~~~

DON'T MISS OUR UPCOMING SPRING CROP!
March 18,19,20, 2022!

Start planning a spring getaway now. Flyers with all the details are available in the store. We'd love to have you there!
~~~~~~~~~~~~~~~~~~~~~~~~~~~~~~~~~~~~~~~
Card kits are available for Sister Roselynn's Beautiful Birds card class! $15 for 4 cards.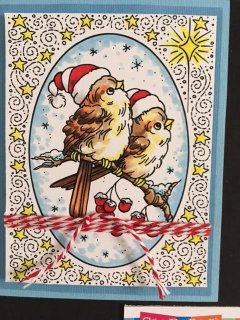 ~~~~~~~~~~~~~~~~~~~~~~~~~~~~~


Be sure to check out our $2 card kits in the store for a quick, handmade card!



~~~~~~~~~~~~~~~~~~~~~~~~~~~~~~

Stay safe !

See you soon!

Bayer's Pampered Stampers Closed Sundays & Mondays
1620 Ralston Circle Open 12-4 Tue-Sat
Toledo, Ohio 43615
419-724-9516


Check out our website for new arrivals, top sellers, and events!
These emails will give you the best and most recent information you need!
Keep in touch with us by visiting our website!