Another great Garage Sale is history !
Thanks to Pat Prucnal, Barb Cox, Candy White, Nancy Pietras, and Molly Stroh!
The Garage Sale would never happen without all your hard work!
Please remember to pick up your unsold items and your gift card during regular business hours on Tuesday or Wednesday this week.
* Sellers must pick up their unsold product and payment from Bayer's Pampered Stampers by Wednesday May 26th. If you are unable to come at this time, please call in advance and we will try to make other arrangements. Any items not retrieved by May 26th will be disposed of by Bayer's Pampered Stampers as I see fit.


~~~~~~~~~~~~~~~~~~~~~~~~~~~~~~~~~~~~~~~~~~~~~~~~~~
Stop in to see the commemorative Tote Bag that the Ohio Shop Hop group designed! The cost is $10 - you don't need to be a Shop Hop participant to purchase one of these great Totes! They will hold 12x12 paper and have a spot for your drink bottle, keys and an outside pocket for your wallet!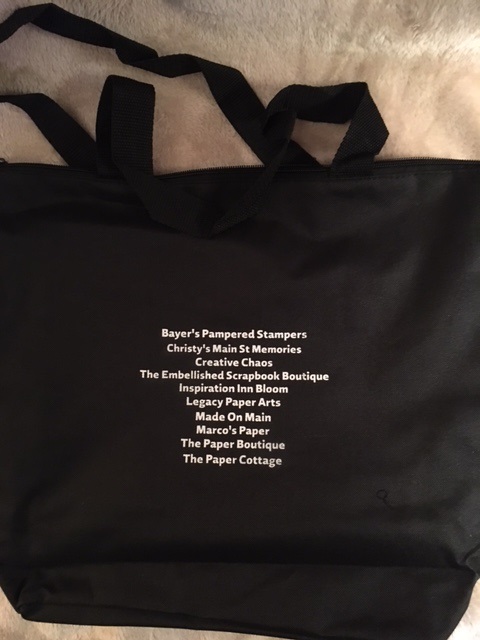 ~~~~~~~~~~~~~~~~~~~~~~~~~~~~~~~~~~~~~~~~~~~~~~~~~
Speaking of the Ohio Shop Hop, Passports for the Shop Hop are on sale! The $15 price includes a 12x12 paper collection pack from Echo Park. There will be an Early bird drawing for a $25 gift certificate for those purchasing the passport before May 31.
Watch my Facebook page on June 1st for the announcement of the Winner!

~~~~~~~~~~~~~~~~~~~~~~~~~~~~~~~~~~~~~~~~~
This week's demo by Cheryl Harwick will introduce us to Folios by Photoplay. There are 5 Folios in the series.





Click here to view

Upcoming Classes:

Sister Roselynn will be teaching a Stampendous Happy Pets Card Class on Friday, June 4 and repeat it on Saturday June 5 both at 1pm. fee $15 please preregister.



And one additional slimline card, picture soon.

Friday, June 11 at 1230pm, Karen Allen will lead a card class featuring interesting folds and beautiful paper! Stop in to see these unique cards. Fee $15 please preregister!




Beverly Mason's Technique Workshop series returns Saturday, June 12th at 1230pm with a workshop full of Heat Embossing Techniques. Fee $15 and includes a bottle of embossing powder or glaze to take home. Please preregister.
~~~~~~~~~~~~~~~~~~~~~~~~~~~~~~~~~~~~~

Please Note:
Discounts cannot be applied to Already Discounted items. This includes Bundled items, Clearance items or marked down items.
Thank you!


~~~~~~~~~~~~~~~~~~~~~~~~~~~~~~~~~~~~~~~~~~~~~~~~~~~~~~~~~~~~~~~~
This week's Make N Take will be in the classroom on Thursday from 1230 - 330pm
This may be the last on in person unless the response is better. The fee for the in person make n takes is $1 per card. When we make kits for the make n takes the fee is $2. These are the cards this week: