It's almost here! This is the week to bring in your Garage sale goodies! Drop off is Tuesday and Wednesday during regular business hours. Bring your labeled totes to the rear of the classroom building. If you are a registered seller, with a number, you may attend a special pre sale Thursday from 4-7pm
All others are welcome to attend the Friday 9-6 and Saturday 10-4
There are about 30 sellers so there should be plenty to choose from!
If you are vaccinated, there is no need to wear a mask. If you are not vaccinated, you should wear a mask for your own safety.
We will be accepting CASH ONLY

Also, those buying at the garage sale will receive a coupon for 10% off their purchase in the store on Friday or Saturday. Not good on already discounted merchandise.

~~~~~~~~~~~~~~~~~~~~~~~~~~~~~~~~~~~~~~~~~~~~~~~~~~
Stop in to see the commemorative Tote Bag that the Ohio Shop Hop group designed! The cost is $10 - you don't need to be a Shop Hop participant to purchase one of these great Totes! They will hold 12x12 paper and have a spot for your drink bottle, keys and an outside pocket for your wallet!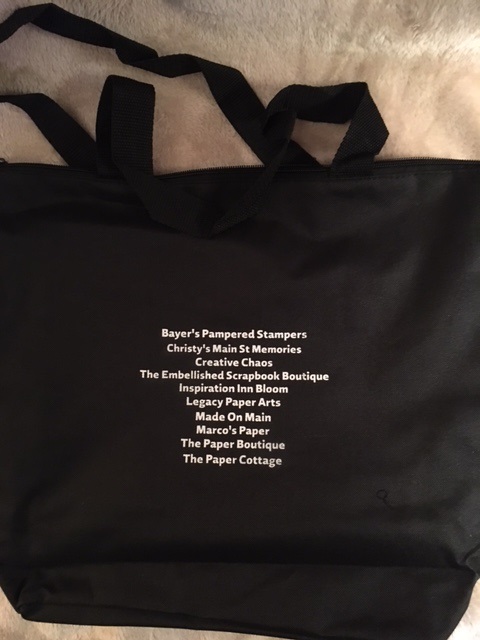 ~~~~~~~~~~~~~~~~~~~~~~~~~~~~~~~~~~~~~~~~~~~~~~~~~
Speaking of the Ohio Shop Hop, Passports for the Shop Hop are on sale! The $15 price includes a 12x12 paper collection pack from Echo Park. There will be an Early bird drawing for a $25 gift certificate for those purchasing the passport before May 31.


~~~~~~~~~~~~~~~~~~~~~~~~~~~~~~~~~~~~~~~~~~~~~~~~

Please consider the following when you are preparing your items for sale in our Garage Sale.

*Only paper crafting tools and supplies are allowed in this sale.
*No finished products or anything not related to stamping or scrap booking will be accepted.
*Make sure all merchandise is in good shape and that all inks, stamps and tools are good working order.

Please read the following carefully:
* Seller must call or stop in by May 18th to register and get a seller's code number. Fee $5
* All items must be packaged and ready-to-sell. Loose items such as paper, stickers, embellishments, etc . must be packaged.
Punches and tools need not be packaged unless they have small or loose parts.
* Labeling & descriptions help sell product! The seller may put short content description on package.
* All merchandise (packaged or not) MUST have seller's code number and price marked on a sticker that sticks well and is on the outside of the package (no sticky-notes, please!).
*Seller sets their own prices. All prices are final.
* All Prices must be in Increments of 25 cents.
* Bayer's Pampered Stampers collects and keeps all money and the seller is paid in the form of Bayer's Pampered Stamper Gift Certificate equal to the amount of their sold merchandise. The gift certificate must be used on in-stock merchandise by 12/31,2021
* Garage sale items must be dropped off at Bayer's Pampered Stampers on Tuesday May 18th or Wednesday May 19th during regular business hours. If you are unable to bring your items during that time, please call in advance to make other arrangements.
Please bring your items in a box or plastic tote (marked with your name and number) in which any unsold items will be returned to you.
* Seller must pick up their unsold product and payment from Bayer's Pampered Stampers by Wednesday May 26th. If you are unable to come at this time, please call in advance and we will try to make other arrangements. Any items not retrieved by May 26th will be disposed of by Bayer's Pampered Stampers as I see fit.


~~~~~~~~~~~~~~~~~~~~~~~~~~~~~~~~~~~~~~
Upcoming Classes:

Sister Roselynn will be teaching a Stampendous Happy Pets Card Class on Friday, June 4 and repeat it on Saturday June 5 both at 1pm. fee $15 please preregister.


Friday, June 11 at 1230pm, Karen Allen will lead a card class featuring interesting folds and beautiful paper! Fee $15 please preregister!




Beverly Mason's Technique Workshop series returns Saturday, June 12th at 1230pm with a workshop full of Heat Embossing Techniques. Fee $15 and includes a bottle of embossing powder or glaze to take home. Please preregister.
~~~~~~~~~~~~~~~~~~~~~~~~~~~~~~~~~~~~~

Please Note:
Discounts cannot be applied to Already Discounted items. This includes Bundled items, Clearance items or marked down items.
Thank you!


~~~~~~~~~~~~~~~~~~~~~~~~~~~~~~~~~~~~~~~~~~~~~~~~~~~~~~~~~~~~~~~~
This week's Make n Take is cancelled due to the Garage sale.
I'd like to hear from you! Are people interested in having the Make & Take continue? If yes, In what form?