I am so excited about the Pink Fresh items we got in last week! I decided to try out a few of the Stencil, Stamp and Die selections that they have and was not disappointed! The Layering stencils work with or without the stamps and dies and are so easy to use! I also got in a couple of layering stencils that are stand alone. Most of the sets have at least 4 stencils and are marked to make lining them up fool-proof!
This ties in with Bev Mason's Stencil Workshop this Saturday. The hands-on workshop will give you a chance to try stenciling techniques and make stenciled pieces to take home and use as you wish. Don't miss your chance try out this fun and economical art form! The fee is $15 and includes a stencil to take home with you! Please let me know if you plan to attend so we can have enough supplies on hand.
~~~~~~~~~~~~~~~~~~~~~~~~~~~~~~~~~~~~~~~~~~~~~~~~~~
This week I will begin selling the commemorative Tote Bag that the Ohio Shop Hop group designed! The cost is $10 - you don't need to be a Shop Hop participant to purchase one of these great Totes! They will hold 12x12 paper and have a spot for your drink bottle, keys and an outside pocket for your wallet!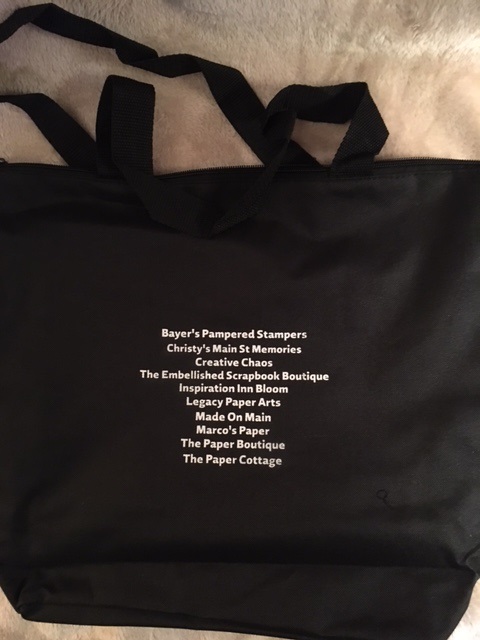 ~~~~~~~~~~~~~~~~~~~~~~~~~~~~~~~~~~~~~~~~~~~~~~~~~
Speaking of the Ohio Shop Hop, Passports for the Shop Hop Will go on sale April 24th The price will be $15 and include a 12x12 paper collection pack from Echo Park. There will be an Early bird drawing for a $25 gift certificate for those purchasing the passport before May31.

~~~~~~~~~~~~~~~~~~~~~~~~~~~~~~~~~~~~~~~~~~~~~~~~~~
Like so many of you during the Pandemic, I have been watching a lot of YouTube craft videos!
I thought I might share some that I especially liked with you each week.
This week I am suggesting a video by one of my favorite demonstrators. For those who haven't already seen the video, here's the link:
spotlight stamping- Jennifer McGuire

~~~~~~~~~~~~~~~~~~~~~~~~~~~~~~~~~~~~~~~~~~~~~~~~
Start sorting your stuff! We are having a Garage Sale!!
It will be May 21 & 22!
If you are interested in being part of the May Garage Sale Call, email or come in and buy a number for $5.
Then sort, pack and mark your items with that number and the price you want to receive for the item.
Load all your sorted items into a tote or totes (also marked with your number) and drop it off at the garage!
We sell it at the price you assign, you are paid in Store credit. It's like trading your old stuff for NEW stuff!
~~~~~~
Please consider the following when you are preparing your items for sale in our Garage Sale.

*Only paper crafting tools and supplies are allowed in this sale.
*No finished products or anything not related to stamping or scrap booking will be accepted.
*Make sure all merchandise is in good shape and that all inks, stamps and tools are good working order.



Please read the following carefully:


* Seller must call or stop in by May 18th to register and get a seller's code number. Fee $5
* All items must be packaged and ready-to-sell. Loose items such as paper, stickers, embellishments, etc . must be packaged.
Punches and tools need not be packaged unless they have small or loose parts.
* Labeling & descriptions help sell product! The seller may put short content description on package.
* All merchandise (packaged or not) MUST have seller's code number and price marked on a sticker that sticks well and is on the outside of the package (no sticky-notes, please!).
*Seller sets their own prices. All prices are final.
* All Prices must be in Increments of 25 cents.
* Bayer's Pampered Stampers collects and keeps all money and the seller is paid in the form of Bayer's Pampered Stamper Gift Certificate equal to the amount of their sold merchandise. The gift certificate must be used on in-stock merchandise by 12/31,2021
* Garage sale items must be dropped off at Bayer's Pampered Stampers on Tuesday May 18th or Wednesday May 19th during regular business hours. If you are unable to bring your items during that time, please call in advance to make other arrangements.
Please bring your items in a box or plastic tote (marked with your name and number) in which any unsold items will be returned to you.
* Seller must pick up their unsold product and payment from Bayer's Pampered Stampers by Wednesday May 26th. If you are unable to come at this time, please call in advance and we will try to make other arrangements. Any items not retrieved by May 26th will be disposed of by Bayer's Pampered Stampers as I see fit.


~~~~~~~~~~~~~~~~~~~~~~~~~~~~~~~~~~~~~~
Upcoming Classes

Please note:
Classes will be limited to 6 students
Masks are mandatory
~~~~~~~~~~~~~~~~~~~~~~~~~~~~~~~~~~~~~~~~

On Saturday, May 1st at 1230pm Karen Allen will Teach a class titled All Flowers. Karen is known for her unique card folds and designs. Fee $15 Please pre-register for this fun and interesting class, it's almost full....


~~~~~~~~~~~~~~~~~~~~~~~~~~~~~~~~~~~~~~~~~
Friday May 7th at 1pm and Saturday May 8th at 1pm, Sister Roselyn will lead a class featuring Summer Fun cards using Stampendous Stamps.
Fee $15
This class is filling fast! Saturday has 2 seats available as does Friday. Call or email to reserve your seat.
Here are the first 2 cards:




Nancy Pietras will be teaching a Graphic 45, Catch of the Day Folio on May 15 at 1230pm the fee is $30 Stop in to see this awesome book!




~~~~~~~~~~~~~~~~~~~~~~~~~~~~~~~~~~~~~~~~~~~~~~~~
Nancy Pietras will do a presentation featuring Photoplay Folios and Graphic 45 paper on our YouTube channel this week. Here is the link : folios
We currently have the Bird Watcher paper in stock. The Nature Notebook paper is currently on backorder. Check it out!

~~~~~~~~~~~~~~~~~~~~~~~~~~~~~~~~~~~~~
I'd like to reward those of you who regularly read the newsletter! I will be placing a Magic Word in the Newsletter for the next several weeks. If you tell me the Magic Word when you check out you'll get 20% off your most expensive item with a $20 minimum purchase. Please keep the word a secret......the purpose is to see who reads the newsletter.

This week's Magic Word is "SWEET" You must say it WHILE CHECKING OUT to receive the discount.

Please Note:
Discounts cannot be applied to Already Discounted items. This includes Bundled items, Clearance items and marked down items.
Thank you!


~~~~~~~~~~~~~~~~~~~~~~~~~~~~~~~~~~~~~~
This week's Make n Take:
Available in the store for $2 each.

Pictures on FaceBook tomorrow!